A Child's Place is in the Classroom,
not on Dialysis!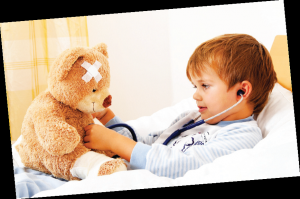 Dialysis isn't easy for anyone, but for children it's much, much harder. While their friends go to school every day, growing and developing, children on dialysis are hitched up to a machine that saps their strength and hinders their physical and academic development. These children, who should be laughing and playing with their friends, live in a state of dejection, cut off from their natural social environment and left behind.
It's a heartbreaking sight to see a school party at which most of the children are tucking into all sorts of candies and drinks and generally having a good time, while the child suffering from kidney disease sits and watches. He is not allowed most of the goodies, nor is he allowed to drink more than a minimum amount; he is hemmed in by limitations and prohibitions.
Dozens of children in Israel suffer from kidney failure and are on dialysis. We at Matnat Chaim have been fortunate to help quite a few of them along the way to a successful kidney transplant. It is an amazing, indescribable feeling to see a child going back to school in the best of health, to hear his peals of laughter in the playground and know that, thank G-d, he is healthy and happy.
https://www.youtube.com/watch?v=6w2xA6aiQhs
(Note: the film is in Hebrew)
Every month, more and more families of sick children turn to us for help. It hurts so much to see a child on dialysis waiting for rescue. See a partial list of these children.
Stories about Kidney Transplants for Children
Yeshayahu Ehrenfeld, a rabbinical student from Beitar Illit and father of 4, donated a kidney to 11 year old Noa Alon, a fifth grade student from Modi'in. Read the article (in Hebrew) that tells their story. Date of transplant: November 3, 2013
Ishai Tzur donated a kidney to 12 year old Bar Azulay. See a film (in Hebrew). Date of transplant: June 24, 2013
Tami Ne'eman from Jerusalem , mother of a large family, donated a kidney to 4 year old Eliezer. Watch Tami being interviewed by Ben Caspit (in Hebrew). You can also read an article in Ynet that tells Tami's and Eliezer's story (in Hebrew). Date of transplant: December 2012
Matnat Chaim came to the aid of Chaya Mushke Hillel to find her a kidney donor. A donor was found and Chaya Mushka Hillel underwent a transplant on May 31, 2015 In Schneider Childrens Hospital. .
7 year old Tami from Bnei Brak received a kidney from a young American woman, Rachel. Read Tami's story (in English). This was one of the first transplants organized by Matnat Chaim.
We are looking for kidney donors for children and teenagers on dialysis.
You can save them with an altruistic kidney donation.
Let's give these young people a chance to live.
For details: 02-5000755 kidneydonation101@gmail.com
Supported by Jewish Child's Day, a UK Charity